Magnetically Attract Clients to Quadruple Your Sales Revenue
(No More Chasing Timewasters and Tyre Kickers)
You know you need valuable leads to grow your Business. Even if you are great at converting leads into high paying clients, you will NEVER meet your Sales Revenue if you don't have enough GOOD QUALITY LEADS
BOTTOM LINE:
Your Business Needs a solid strategy for success, so your ideal clients will be magnetically attracted to you, and you can start selling the heck out of your services! Download my Magnetic Marketing Map modules and watch as your number of targeted and ideal clients skyrocket. In fact, I'm going to give you the exact strategy that I used to quadruple my sales revenue in 12 months.
GRAB MY PRESALE PRICE NOW AT £47 Value £297
<script async id="_simplero_landing_page_js_77050" src="https://dylisguyan.simplero.com/page/77050.js"></script>
Recreate the "secret" of the super successful people. I will demystify the "secrets" behind what makes some people more successful than others. So that you can do the "Right Things" and stop doing some of the Wrong Things
How to avoid the #1 business killer that will keep your bank account empty
The essential steps that you must have to position yourself as the trusted expert and have clients seeking you out. No more cold calling, telemarketing, knocking on doors, struggling with gatekeepers
You will be positioned as the "Trusted Adviser" and beat the competition without having to drop your prices
Know your numbers – Identify what is working and what's not – it's essential!
Identify an EXTRA 67% of your target market that don't even know about. You could be missing tons of opportunities.
Identify and profile your ideal clients – so you can go out and find more of those people that you LOVE working with.
Create magnetic marketing messages that include the essential 4 steps to make your marketing magnetic and have prospective clients, read, listen and respond. Hot Leads coming in on a regular basis….what joy!
Create your own Magnetic Marketing Map – Create a map to include the activities that suit you and your business. – To attract ALL the clients you ever wanted.
You will be attracting the kind of clients you want and NOT be spending time with "tyre kickers" and "time wasters"
We will cover 21 of the most successful marketing activities that you can select from, to create your own Magnetic Marketing Map – To attract ALL the clients you ever wanted.
HERE'S WHAT ONE OF MY CLIENTS SAID: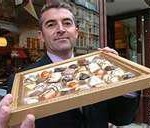 "Dylis was instrumental in our shops growing their 'external sales' with other businesses. Our managers found her sales training programme to be both effective and inspirational. Her straightforward and easy to understand approach gave our colleagues ideas and strategies which they could immediately turn into action. But more than anything, it created a belief and a 'can do' attitude amongst our managers. As a result of Dylis's programmes, our external sales grew from £225,000 to well over £1.1 million within 12 months "
~ Peter Burdon, Former CEO Thorntons
SO, if……..
Your phones are no longer ringing or not ringing as much as they used to
Customers are not responding to your marketing efforts
Your product or service is not selling as much
You want to move your business up a level
Then this programme is definitely for you!
GRAB MY PRESALE PRICE NOW AT £47 Value £297
<script async id="_simplero_landing_page_js_77050" src="https://dylisguyan.simplero.com/page/77050.js"></script>
And just so you know that you are getting the best expertise and knowledge on attracting more "Quality Leads" let me tell you a little about myself so you know how I can help you. My name is Dylis Guyan. International, Award Winning Sales and Marketing Expert. Course Director with Chartered Institute of Marketing and former Sales Director with Barclays Financial Management.
I help business owners and sales people who sell to other businesses to Quadruple sales revenue by attracting more of their ideal clients, quicker and easier than they ever would on their own. I've helped thousands of Sales People and SME's all around the world enjoy better and more prosperous lives. But it hasn't always been this way. When I left my corporate job in 1999 (having enjoyed top spot in the country) I literally went from boardroom to bedroom, with my Yellow Pages and telephone. I quickly realised that if I was going to go up against some major competition I really had to be TOP of my game. So, using all of my past experience and learning from the best in the world I now bring cutting edge strategies to my clients. Strategies that help to position them as experts in their field and have clients coming to them in droves.
THAT'S WHY I CREATED "MAGNETIC MARKETING MAP" WHICH I CONSIDER TO BE ESSENTIAL (NOT JUST A NICE TO HAVE) TO GROWING YOUR BUSINESS
In this programme you will get specific tools, templates, scripts, everything you need to ensure that you will differentiate yourself from your competitors and win more business. You will discover the essential steps you need to make sure your marketing gets to, The right people, With the right message, In the right way. A marketing message that will resonate with them and give you a constant steady flow of prospective clients. Don't leave your business to chance
GRAB MY PRESALE PRICE NOW AT £47 Value £297
<script async id="_simplero_landing_page_js_77050" src="https://dylisguyan.simplero.com/page/77050.js"></script>