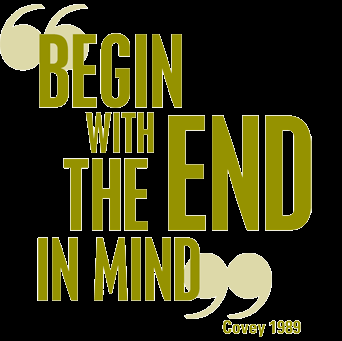 One of the mistakes that many business owners and sales people make is that they do not begin with the end in mind when carrying out a task or activity. In other words they start tasks without giving thought to the results they want to achieve.
The problem with this is;
wasted time
wasted money
piles of unfinished work
unmet objectives
feelings of frustration and stress.
Let me share a story with you.  A number of years ago I was working with some sales managers from Canada and we were discussing this very subject and at the end of the discussion one of the managers said this:-
"This is so relevant to both my job as a sales manager and to my personal life. Here is an example from my personal life.
I decided that I wanted to convert my garage into an office. I arranged for the architect to come and draw up plans, which cost me money. I submitted the plans and had them passed, which cost me money. I made a list of all of the materials that I needed, ordered them and had them delivered, which cost me money.
That was four years ago and all of the material is still lying in my garage!!!!! "
One month later I received an email from this manager telling me that his office was finished and he had started going to the gym. (He had set up a gym membership but had only been twice) He had also become much more organised at work because he started every task with The End in Mind.
His team were more productive because he had shared this philosophy with them and they were also deciding on the results they wanted before starting a task.
Here is another example that I've come across many times with both sales people and business owners.
They decide to attend an exhibition.
They book their stand, organise their literature, posters, business cards etc.
Arrive at the venue
Engage in conversation with visitors to the exhibition
Exchange business cards
Put the cards into their briefcase
Get back to the office and put them in a drawer
Some even add them to a spread sheet
Some connect through social media
AND THAT'S WHERE IT STOPS!
What a waste of both time and money.
I know some of you will be protesting, saying that you always follow up using a strategic contact strategy. But from my experience, you are the exception rather than the rule.
So what do you have to do?
 No matter what activity or task you are involved in begin with the results/goals/objectives that you want to achieve.
 Plan your actions to ensure that you will meet those objectives
 Make sure you carry out ALL of the actions.
 If something isn't working, STOP and revise your plan
So, if you are involved in; a social media campaign, an exhibition, a meeting, writing an article, a presentation, using a customer relationship management system, using management information, anything……….
Please BEGIN WITH THE END IN MIND and complete every action until you meet your objective. You will waste less money and time and be less frustrated and stressed.
I am just about to begin a coaching call with a client who has successfully secured an appointment with a large corporate company. We are going to work together to prepare her for that face to face meeting. The first question I will ask is "what do you want to come away with from that meeting".              I.e. Begin with the end in mind.
This will help focus her mind on the structure of the meeting.
If you want help with your planning or you just simply want more clients, please sign up for your FREE 30 minute "Profit Booster" strategy session with me personally CLICK HERE
Please leave me a comment below, sharing your thoughts on how you achieve the goals you set. Sharing is how we all improve. Thanks.x
Success to you all.
"Find a Way and be the Best you can Be"
My best regards as always,
Dylis
Email: dylis@dylisguyan.com