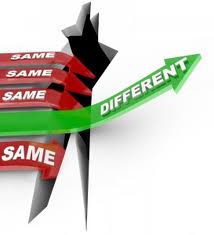 What is it about your business that makes you stand out from your competition?
Are you doing things that are better, different or unusual to help you get more clients?
Or are you just the same as all the rest of your competitors?
Here's a story from our recent holiday which will help you stand out from the crowd and have clients coming to you in droves.
My husband Keith and I went to Spain recently and on one of our days out we walked along a promenade where there were individual areas of cafes with sunbeds and parasols Everyone looked the same as the other, EXCEPT for one! We immediately stopped at this one and had a coffee.
As we sat I looked around to see what it was that made us stop in our tracks, and go in. We actually didn't need a drink, but were compelled to stop when we saw this particular place.
Here's what we saw;
It was packed! Every other place that we'd passed was fairly empty, and here was a place that had lots of people sitting outside the café and the sunbeds were just about full.
Then Keith and I had a conversation about what else was different, and there were many things.
The sand had been raked, and there were beautiful plants around the trees and the shower.
Everything about the place was immaculately clean and well presented.
The staff made you feel special nothing was a problem for them
The food looked delicious, although I must admit we didn't have any.
They had a table with magazines and newspapers for sale
There was a stand with shelves full of books which you could either borrow for the day or take away in exchange for another book.
There were 3 levels of sunbed available, all at different price points
Sunbed and parasol only
Sunbed and parasol with waiter service (both food and drink)
A family bed with waiter service and a complimentary bottle of wine
They certainly knew how to get more clients…………!
As we watched, the waiters were in and out to the sunbeds making sure those who had the 2nd and 3rd level of sunbed had everything they needed – at all times.
Clever……not only were the sunbeds full, but they were making additional sales from the newspapers and magazines, plus all of the additional revenue from the food and drinks.
So, what are you doing to make your business stand out from your competitors? What are you doing to get more clients?
Top tips;
Make sure you have the basics right. i.e. Your product offering, customer service, both before and after the sale. Make it an exceptional customer experience.
Create some inexpensive or free giveaways
What additions or upsells can you offer? Think about a complementary product that could be added to your primary product or service.
Establish different levels of offering for your product or service. You will be amazed how many people will pay for the higher priced offerings.
Make your business stand out from the crowd and be the business that has customers coming to you because you are THE place to go to.
If you need help to get your business to the next level and truly stand out from your competitors; email me at dylis@dylisguyan.com with HELP ME GET MORE CLIENTS!
Find a way and be the Best you can be.
Best regards as always
Dylis
Email: dylis@dylisguyan.com