Discover 11 Proven Steps Which Will Explode Your Business In Less Than 30 Days.
Attract, Convert and Retain More Clients – Guaranteed!
Did you know there are 11 essential steps involved when it comes to selling to other businesses? You are probably doing 1 or 2 of them right now, perhaps more. But if you are struggling to convert the majority of your prospects into high paying clients, I can guarantee you are missing some of the crucial parts of the process. This will leave you struggling with some or all of the following when you're trying to attract, convert and retain clients:
You are working really hard, too hard a lot of the time and you're not seeing the return that you would like or indeed deserve. This sometimes makes you feel stressed, overwhelmed and exhausted.
You procrastinate and don't following through with your list of activities.
You struggling to get in front of enough potential clients?
You make phone calls and are being dismissed within seconds?
You send emails/letters that don't get a response
You make appointments that are cancelled, postponed or even worse, they see you and then they buy from your competitor?
You struggle with too many objections, especially the dreaded "price issue"
Don't struggle any longer……Here is the solution: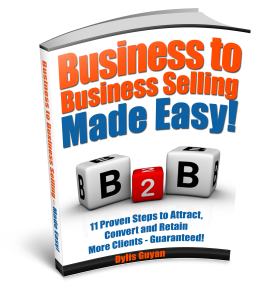 Business to Business Selling…Made Easy!
£19.97 £9.97
B2B Selling… Made Easy is 11 Proven Steps to Attract, Convert and Retain More Clients – Guaranteed!
This guide is an easy to follow, step by step PDF blueprint. Essential information if you're selling to other businesses
Download the crucial 11 steps which will give you the secrets to selling to other businesses by implementing an easy 11 step method that will explode your sales, quicker and easier that you've ever experienced before.
No more of the garbage that is churned out about selling being a "Numbers Game"
No more of this rubbish about "Keep Closing" and you will eventually get the business.
No more Telling your potential client everything about your product or service and hoping something sticks.
You will discover how to:
Make more income today by implementing 3 Quick Cash StrategiesModel the attitude and characteristics of the top 20% of successful people and enable you to become one of the top 20% of sales people
Differentiate yourself from the competition and be the supplier of choice
Profile your ideal client so you are spending your time and money on the type of clients you want
Create a marketing plan that will position you as the expert and have prospective clients seeking you out
Measure and monitor your business to develop and grow your business
Write emails and letters that will have potential clients responding and excited to see you
Make phone calls that will have your prospects saying "Yes" I really want to meet you
Follow an easy 4 step sales process which will take your prospective client from a position of interest to a position where they want to buy from you. A process which is 100% client focused, ethical and transparent.
No more convincing, persuading or pushy sales tactics
Follow a simple 3 step process to overcome ANY and ALL objections, including the dreaded "Price Issue"
Create and implement an easy, proven strategy to maximise repeat and referral business from your existing
clients and reduce time spent cold calling
Grow Your Business and Live your Life Stress Free..
Who is "Business to Business Selling Made Easy" designed for?
Professional Business Owners B2B
Professional Sales People B2B
Entrepreneurs B2B
Accountants, Financial Advisers, Solicitors, Manufacturers, Web Designers, Virtual Assistants, Sales Professionals
Office Suppliers, Telephone Call Handling Services, Data Providers, Executive Coaches, Service Providers
If you are selling to other businesses, then this is for you!
"My methods are about being customer focused, transparent, ethical. working with the customer to find their issues and helping them to achieve their objectives and goals. At the same time making your job easier, more enjoyable and more effective."
Simon Fletcher
(St James's Place Partnership)
Dylis has had a huge positive influence on my career.
She recruited me into Financial Services at the age of 23 and by the age of 25, I was into the top 10% of Advisers in the country and had:
the belief
the values
the processes
the sales skills
the confidence
To make the transition to an Independent Financial Adviser, advising High Net Worth Clients on "How to Grow their Wealth"
Dylis knows what has to be done to get results and her motivational style works.
If you are serious about growing your business then I urge you to seriously consider taking Dylis on the journey, because she will transform your thinking and your results beyond your expectations.
Bonuses Included
Get templates and check-lists for your emails, telephone calls, sales letters, sales process, handling objections. Why reinvent the wheel. I've created them, they work!
16 of my most powerful headlines that will get your emails and letters opened and read.
Plus a copy of Napoleon Hill's Think and Grow Rich Ebook.
Money Back Guarantee
I am so confident that these strategies will work that I'm prepared to give you a 365 Day Money Back Guarantee – Yes a whole 12 months with no questions asked.
Don't leave your sales success to chance. Make 2017 your best year ever.
Download your copy of Business to Business Selling…….Made Easy! TODAY and attract, convert and retain more clients in record time.