Over the many years I've worked with business owners and sales people there is this one characteristic that makes the very successful stand out from the rest. It is always there, without exception.
So what is it?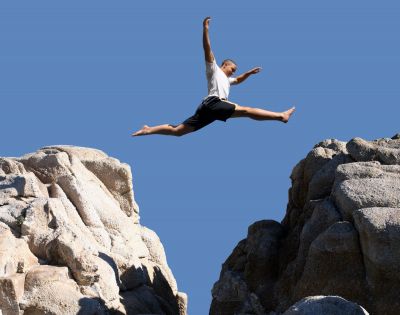 It's their ability to overcome obstacles.
It doesn't matter what challenge or obstacle
they are faced with, they "Find a Way" to overcome it.
They actually relish the challenge of the challenge.
Do you think when the Americans put man on the moon; they did this without any obstacles?
Of course they faced obstacles but they were successful because they were prepared to overcome any and all problems and obstacles that came their way.
Getting a man on the moon had never been done before so they couldn't even cling onto the belief that it had been done before, therefore knowing it was actually possible. They knew exactly what they wanted to achieve, planned their actions. They were determined, focused and found ways to deal with all challenges to move closer to their objective.
Let me tell you a personal story;
When I was Regional Manager for Financial Advisers, they used to call me "Find a Way"
I used to stand up a book on the desk and say "If this is where you are (left-hand side of book – hand on desk) and this is where you want to be (right-hand side of book – hand on desk) , but this is stopping you (The Book) If you really want to achieve your objectives then you have to find a way round it, through it or over it otherwise if you keep doing what you are doing now, you will stay exactly where you are now.
Then looked at the " best options" to find a way to move forward.
Many business owners use the challenge or obstacle
as an excuse and stay stuck and frustrated.
Or feel that they have justified their inaction or under
performance because of the challenge. Of course they
don't deliberately want to be stuck but they just don't know how to deal with it.
Here's what to do the next time you are faced with something that makes you feel stuck.
Be clear about what you are trying to achieve and the reasons why. This will help you keep focused.
Take a piece of paper and write down all the options that are available to you. No right or wrong, just get everything written down. If it helps, ask a friend or colleague to brainstorm with you. No discussion about the options at this point. This is just about making a list of as many possible options as you can think of.
Choose the option/s that work best for you.
Make a plan – written
TAKE ACTION
Don't ever be stuck again because unlike the Americans getting man on the moon, most of your challenges will have been overcome by someone somewhere, it is a doable task – you just have to find a way!
Please leave a comment and let me know how you deal with your obstacles.
I look forward to hearing from you.
Success to you all.
"Find a Way" and Be the Best You Can Be.
Best regards,
Dylis
Dylis works with B2B business owners to help them attract more prospective clients and convert them into high paying clients who give repeat and referral business. She shows business owners how to sell in a professional, transparent and authentic way.
No more convincing, persuading or pushy sales techniques. Have clients coming to you quicker than ever before.
For more professional sales and marketing strategies CLICK HERE to Subscribe to receive your FREE guide "21 Sure Fire Ways to Find Your Ideal Client"
Email: dylis@dylisguyan.com